Temporäres Flugbeschränkungsgebiet – Lienz – aktiv
Temporary restricted area – Lienz – activated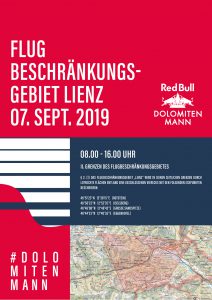 Speziell Begleitpersonen von Athleten und Bergläufer sollten dies beachten um unangenehme Überraschungen zu vermeiden.
During the Dolomitenmann, on 07/09/2019, the airspace above Lienz will be restricted between 08:00 am and 04:00 pm. It will be valid to all non-athlete paragliders. Infringements will be punished by the police!
Especially supporters of athletes and mountain runners should consider this.
https://www.redbulldolomitenmann.com/paragleiten/
NOTAM from Thu, 29 Aug 2019 20:29:00 UTC
Die NOTAM-Daten werden auf dieser Seite nicht aktuell gehalten. Für zuletzt gültige Daten bitte die offiziellen NOTAM-Quellen überprüfen.
This information will not be updated on this site. Please check official NOTAM sources for actual data.
A2130/19 – TEMPORARY RESTRICTED AREA – LIENZ – ACTIVATED.
COORDINATES:
465123N0123615E (ROTSTEIN)
465023N0125235E (ISELSBERG)
464608N0124842E (GROSSE SANDSPITZE)
464423N0124035E (EGGENKOFEL)
465123N0123615E (ROTSTEIN)
LOWER LIMIT: GND.
UPPER LIMIT: 10000FT AMSL.
ENTRY, EXIT, TRANSIT AND OPERATION OF ACFT, MODEL ACFT, UNMANNED ACFT CLASS 1 AND 2 AND UNMANNED AERIAL VEHICLES PROHIBITED.
EXEMPTIONS FROM THIS RESTRICTION:
A) FLIGHTS ACCORDING PARAGRAPH 145 AVIATION ACT,
B) MILITARY OPERATIONAL AIR TRAFFIC ACCORDING PARAGRAPH 145A AVIATION ACT,
C) SEARCH- AND RESCUE FLIGHTS,
D) FLIGHTS WITH UNMANNED AERIAL VEHICLES ENGAGED FOR POLICE OR JUDICIAL PURPOSES,
E) FLIGHTS WITH APPROVAL FROM THE OPERATOR ON 'DOLOMITEN INFO'
ALL EXEMPTED FLIGHT'S ACCORDING 'A' TO 'E' SHALL CONTACT
'DOLOMITEN INFO' ON FREQ 123,100MHZ PRIOR ENTRY OR DEPARTURE. GND – 10000FT
AMSL, 07 SEP 06:00 2019 UNTIL 07 SEP 14:00 2019. CREATED: 14 AUG 10:02 2019